Are you writing a research paper? Do you absolutely dread citations just like everyone else and you agonized over it every time you wrote a paper?
Well, now this article will hopefully make your life a little easier and give you a basic guideline on how to cite a website in APA format and how to cite a government website APA.
Or maybe you've gotten in a sticky situation where you had to cite something which didn't have an author?
Hopefully, after you're done reading this article you won't hate it anymore, and next time, when you have to cite something, it'll be a much easier task for you!
Basic Rule of Thumb:
Everything you find on the internet that you didn't write, or from a book, or whichever another source, you NEED to use quotation marks around it. Why is that, you wonder?
You're telling the person who's reviewing your work that you didn't write this, and you found it from a different source and you're crediting them for their words. Wouldn't you hate it if someone stole your quote or findings? The Same concept applies here.
That's why we should quote authors, and give them due to credit for it. Then, on the last page of whatever it is you're writing, you're going to list every source you quoted.
Found it in a book? Quote it.
Found it online? Quote it.
You don't want to get in trouble for plagiarism if it can be easily prevented by just using a quote.
Citation Styles:
When you're citing something, you're probably going to use one of the following methods.
Chicago Styling, which is used if you're writing something for anthropology or for history. More specific Majors include History, Business, Religion, Criminology, Music, International Studies, Arts History & Management, Philosophy, & Theater.
ASA Style is used for Sociology Papers.
APA Style is used for the Social Sciences and Psychology papers.
MLA Styling is used for your Liberal Arts Papers and for your Humanities Papers.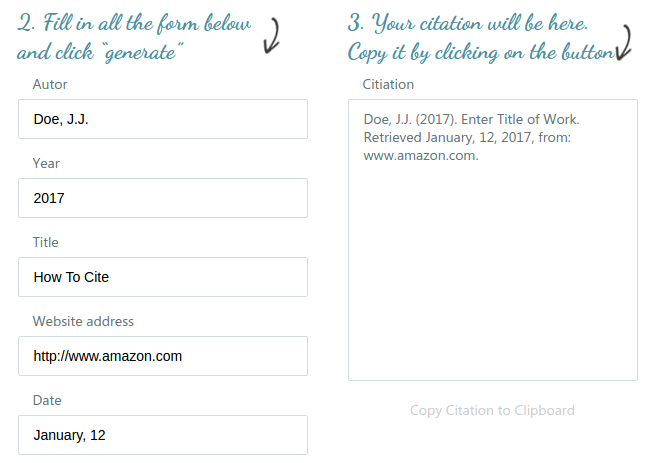 For example: Are you writing Press? You'd use this Style format. Same applies to Journalists and Magazines. You always want to be safe and cover yourself.
To be more specific of the MLA Majors that includes: Literary criticism, English Studies & Literature, Media studies, Foreign studies & lit and Cultural studies.
What are the different types of writing that can be used for MLA?
Some of those different types of styles include mostly essays and research.
To be more specific: Literary Essays, Persuasive essays, Argumentative essays, Expository essays, research papers. This is especially important for research because with MLA you can and NEED to give your credit where it's due to the authors.
What happens if I find something that doesn't have an author?
This one was always tricky. When you write papers, and you find something without an author (and you have no clue how to APA cite a website with no author), you'd be tempted to simply not use the material. When you do, you'll need the following information to cite:
The Year
The Title
The Location
The Publisher
The Number of Edition that you're using and lastly
The Type of Recording.
Now, when you've filled out all of that information, you put the quotations in the space provided. Then bam. You have your citation folks. It's that simple. Don't you feel much better about this process now? Is it less daunting than when you have first started?
All you have to do is look at it when it's broken down into simple steps. Once you realize that the process isn't as complicated and scary like everyone made it sound when you first started, you'll be good to go and your paper will be done in no time with all of the right citations.
Now, what happens when you don't know how to cite an entire website APA format? It's just another easy task.
You just need the following:
The Author
The Year
The Title
Website Address
Date
Then you put your quotations, and you're done.
Next one is a tricky one, you're citing your paper and you realize you need a Government Style APA.
Uh-oh! What do you do?
So you'll realize there isn't actually a category for this, so it's kind of a trick question. You're still using the same APA format, and any documents you find from the government and decide to quote and use are used as books. So it's still pretty easy.
But when you're too lazy to do, all the work, our citation service is here to pick up the slack.
You're now better equipped to tackle research papers, and also Kingcitation.com is here and all of your citation needs with.
To also make your lives easier, King Citation is here and we're awesome, get your citations done in a quick and easy manner.