Taking risks may be fun and even rewarding. You can never tell how some particular action or decision may affect different aspects of your life.
Some would say, that being risky may be dangerous for your well-being especially, when we talk about education and topics connected to it. True, but there are some examples, when being unpredictable and having a good sense of humor helped students in achieving their goals.
Perhaps, majority of people, reading this post heard a story about a student from University of Chicago who used examples from popular TV shows and cartoons for his work on social studies.
What one lazy risky man ventured to
For those, who haven't heard it yet, here's what happened. A guy decided not to care too much about what his professor may find in his work. So instead of spending hours on doing some serious research on the subject, he just used stuff, that all of us know a lot about – pop-culture. He even went further and included names of TV-shows, movies, etc. in the bibliography of his work.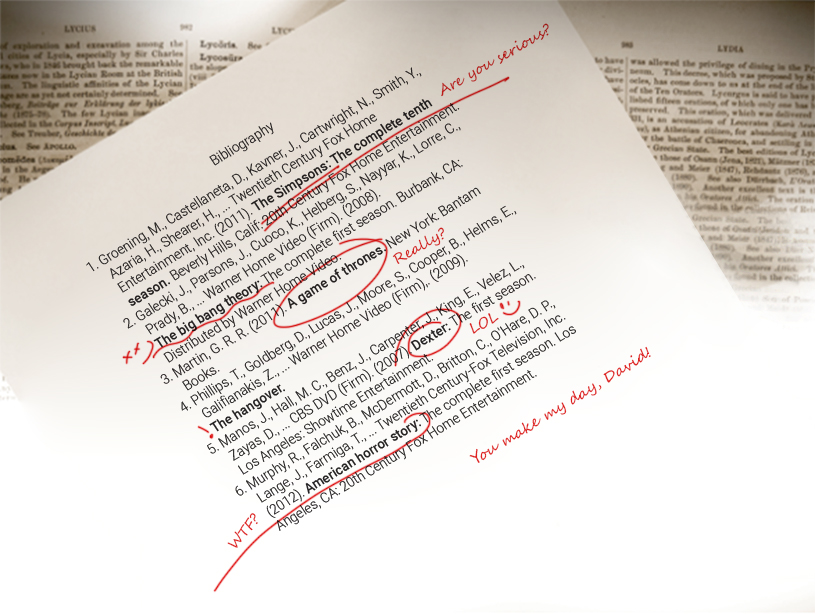 Imagine a vast work on social studies filled with quotes from Tyrion Lannister, Sheldon Cooper and other famous guys from the screen shows. More to that, people say that he used Simpson's family as representation of American dream.
And how it ended up
The guy did not expect professor to read his work at all, but he appeared to be wrong. Professor not only read his work, he enjoyed it and gave an A to the student. In addition he even made him read it for the whole class, so that everyone could appreciate his extraordinary thinking and sense of humor.
Of course, after the whole story, the professor asked him not to do things like that anymore, but generally everything went pretty good for that guy.
But stories like this are as rare as black rhinos. In most cases similar to this, professors do not actually care about Simpsons, Flintstones, Lannisters, etc. So yeah, actually taking risks concerning education is not as good idea as it may seem after reading this story.
A limit to risks
It is actually important to be responsible, when You work on some essay or research paper. More to that, You should remember, that there are no unimportant elements in your work.
As we said earlier, this story is just a rare exception from the rules, You cannot actually rely on a bibliography, that consists of pop-culture phenomena, a serious work with tons of books should be done in order for You to succeed in your work.
But there are ways to ease your life. If You find yourself in trouble with your bibliography composing, You can use Kingcitation.com and be sure, that bibliography for your work on any topic will be flawless!
So, best of luck with your studying!